Waiting on Wednesday is a weekly meme hosted by Jill over at Breaking the Spine. It hosts the books that we are dying to get but haven't been released yet. This week I'm waiting on.......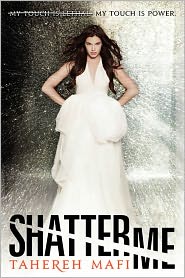 Shatter me by Tahereh Mafi
Juliette hasn't touched anyone in exactly 264 days. The last time she did, it was an accident, but The Reestablishment locked her up for murder. No one knows why Juliette's touch is fatal. As long as she doesn't hurt anyone else, no one really cares. The world is too busy crumbling to pieces to pay attention to a 17-year-old girl. Diseases are destroying the population, food is hard to find, birds don't fly anymore, and the clouds are the wrong color.

The Reestablishment said their way was the only way to fix things, so they threw Juliette in a cell. Now so many people are dead that the survivors are whispering war- and The Reestablishment has changed its mind. Maybe Juliette is more than a tortured soul stuffed into a poisonous body. Maybe she's exactly what they need right now.

Juliette has to make a choice: Be a weapon. Or be a warrior.
OOOOH!!! This one gives me the chills just reading about it!! I can't wait to get my grubby little hands on this one!! And the cover!!? It adds a perfect affect to the book! :D
~~~~~~~~~~~~~~~~~~~~~~~~~~~~~~~~~~***~~~~~~~~~~~~~~~~~~~~~~~~~~~~~~~
Until I Die by Amy Plum
Kate has chosen to leave the comfort and safety of her human world in order to join Vincent in the dangerous supernatural universe he inhabits. For his part, he has sworn to go against his very nature and resist the repeated deaths that are his fate as a revenant—even though it will bring him immeasurable suffering.

Heady with romance and rife with danger, the second book of the DIE FOR ME trilogy follows Vincent and Kate as they search—separately—for a solution to their plight, pursuing their quest from the glamorous streets of Paris to the city's squalid underbelly. Although the experiment that Vincent attempts is progressively destroying him, he insists on seeing it through to the end. This prompts Kate to strike out on her own into the dangerous world of the revenants to find another way. But she unwittingly puts everyone she loves at risk when she discovers a family of ancient healers who hold the key to a secret that could help the bardia—the good revenants—overthrow their murderous enemies, the numa, forever.

And while the lovers search for something they have little chance of finding, a new threat arises among the numa. Kate finds herself in the midst of an ancient and deadly war, not as a bystander...but as a target.
Luminous by Dawn Metcalf
As reality slips and time stands still, Consuela finds herself thrust into the world of the Flow. Removed from all she loves into this shifting world overlapping our own, Consuela quickly discovers she has the power to step out of her earthly skin and cloak herself in new ones-skins made from the world around her, crafted from water, fire, air. She is joined by other teens with extraordinary abilities, bound together to safeguard a world they can affect, but where they no longer belong.

When murder threatens to undo the Flow, the Watcher charges Consuela and elusive, attractive V to stop the killer. But the psychopath who threatens her new world may also hold the only key to Consuela's way home.
Girl of Nightmares by Kendare Blake
***Sorry there is no synopsis yet! : /
~~~~~~~~~~~~~~~~~~~~~~~~~~~~~~~~~~~***~~~~~~~~~~~~~~~~~~~~~~~~~~~~~~
So thats that!! Hope you enjoyed these beautiful covers as much as I did!! Thanks for stopping by!! :D